Certified OKR Practitioner
C-OKRP™
World's leading OKR Coach Certification. Certified OKR Practitioner (C-OKRP™) by OKR International is the gold standard in OKR Training. The Certified OKR Practitioner is the first and only OKR accreditation endorsed by ICF & HRCI for continuing education units.
About The C-OKRP™ Accreditation
Trusted by Brands Globally
09 & 16 Dec. 2023
Instructor-Led Online - English
C-OKRP™ OKR Practitioner Course Content
Why OKRs?
Introduction to OKRs and it's superpowers.
OKR DNA
Definition and standards of OKRs & Initiatives
Types of OKRs
Various kinds of OKRs & its uses
OKR Practice
Crafting OKRs & receving feedback
OKR Cycles & Levels
Implementing OKRs across the organisation
Balancing OKRs
Creating sustained growth through balanced OKRs
Value Based KRs
How to generate and outcome based mindset
OKR Alignment
How to Align OKRs in a multi-directional way?
OKR Process
How to implement OKRs for the first time?
OKR Rituals
Rituals within the planning & implementation process
OKR Champions
Role of an OKR Champion, Project Lead & HR
S.A.F.E Model
Responding to scenarios during implementation
OKR Conversations
OKR Skills of Coaching, Feedback & Acknowledgement
Psychological Safety
Building the right culture for OKRs to thrive
Cadence Reviews
Planning & conducting cadence reviews
Examinations
Two online exams with 75% pass criteria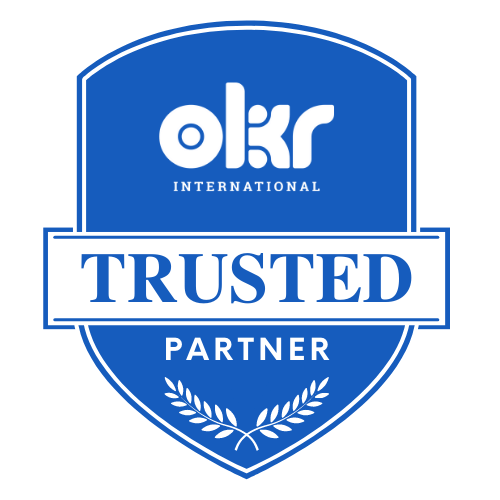 Accelerate the growth of your business by partnering with our team of OKR experts.
Become an official OKR International Trusted Partner and offer the Certified OKR Practitioner (C-OKRP™) training to your own clients!
We are a phone call away
Interested in OKR International's services? Just pick up the phone to chat with us.
Write to us if you have a question
Sometimes you need a little help from your friends. Or an OKR International support member. Don't worry… we're here for you.
Have more questions on OKRs?
Visit our page on OKR FAQs
Learn more from our latest Blogs