OKR Framework for Strategy Execution
Our time-tested OKR Implementation Framework helps you in making OKRs successful from the word go. You need a partner that not only brings OKR expertise to the table, but also a deep repertoire of industry knowledge with a strong background in strategy execution  and agile change management.
Nearly 70% of companies fail with their OKR Implementation, the first time. Simply getting an OKR software does not ensure success. Designing OKRs is one thing; Implementing them is another.
Why Choose Us?
Simple! We deliver results. At  OKR International, we have been leaders in the space of Strategy Execution, Culture Transformation, Organisation & Leadership Development and Learning Solutions across the globe.
Nearly 15 years of experience in consulting solutions.
Global footprint across 12 countries and 20+ industry sectors.
350+ Clients across Fortune 500 companies.
Cutting edge solutions with proven results.
OKR Framework
With decades of global experience in performance management and culture transformation, our time-tested framework is easy for your employees to understand and robust enough for you to see changes from the very first quarter.​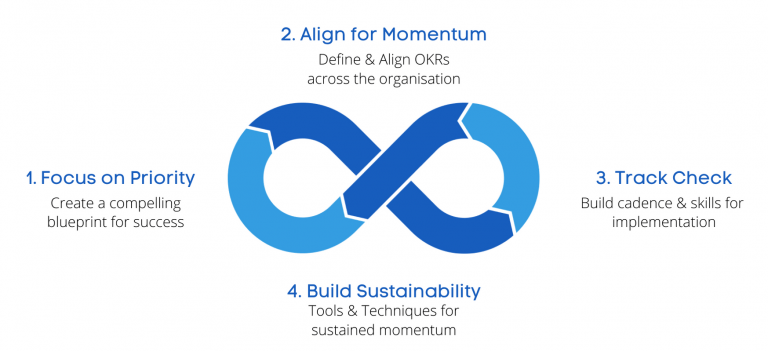 Focus on Priority
Align for Momentum
Track Check
Build Sustainability
We believe in keeping the main thing, the main thing. We work with your leadership team to understand the strategic goals of the organization and align them to the OKR Implementation plan. Whatever your existing systems may be, we help you to integrate OKRs with minimum disruption.
Implementing OKRs is about making radical changes in your organisation's culture. As experts in culture change, we bring the requisite repertoire to help you make OKRs a way of life. Creating a transparent and engaged system includes critical activities such as
Creating a buy-in from people across the board
Training your leaders and teams on OKRs and supporting skills
Establishing visible cross-functional dependencies
Validating OKRs
Ensuring the top-down and bottom-up approach
Choosing and Implementing the right technology
Implementing OKRs is by far the most crucial aspect of this framework. This means working with leaders to establish ownership and role-model execution from the top. We take pride in making things simple. Using a phased-out incremental execution plan not only makes it easy for you but also provides an opportunity to learn quickly and improve.
The efficacy of execution within the OKR framework depends on choosing the right cadence. This includes key activities such as all-hands meetings, regular progress reviews, check-ins and a fair system of tracking and grading progress. We assist you in using the CFR (Coaching-Feedback-Reinforce) methodology by coaching and co-reviewing these critical activities.
Our unique Build-Operate-Transfer (BOT) model ensures we are with you every step of the way. Our ongoing support systems will provide you with the necessary Tsūrukitto (Toolkit) including the OKR Implementation Guide, Meeting Templates, Job Descriptions for OKR Champions (North Stars), OKR Assimilation Guides for new joiners, OKR Checklists and FAQs for teams. We also offer support during the quarter-end wrap-ups in the initial stages until you are confident to take over yourself.
OKR Implementation Process
Our time-tested 8-step process offers you a plug and play array of implementation services. We can help you with full OKR implementation or any part within this process.
The first thing to do when implementing OKR is to make sure everybody knows what OKR is and is willing to use it. OKR Orientation Training is the starting point to get all on board.
The output of this step is to align the strategy of the organisation to its goals.  Coaching the CEO/MD to create Annual Organisational OKRs along with their CXO team for complete buy-in.
The OKR Workshop is designed to help teams to start looking at creating their own tactical OKRs at functional or team levels. This step helps leaders, managers and teams be to create OKRs.
Our OKR experts will help your teams to whet out the first cut of OKRs created. Aligning and validating OKRs is crucial to this step. Top-down and bottom-up alignment helps create greater engagement during execution.
Our suite of world-class OKR software allows everyone to easily view, & manage their OKR. It also helps have a history of previous OKRs & get more actionable data for further improvement.
The OKR framework requires core skills like Coaching & Feedback that are critical for success in execution. Members learn these core skills as part of the program.
Our OKR Coaches will spend time offering support & feedback during the cadence reviews. During these meetings, progress is reviewed and graded with the help of our coaches.
Quarter-end grading of OKRs is a measure of progress and success. The quarter end (cycle) review helps leaders and teams to share learning, pivot and set new goals for the next cycle.
Learn more from our latest blog