The largest collection of
Articles
White Papers
E-Books
Cases

on OKRs
The OKRs Library gives you access to world-class content with practical insights on Everything OKRs!
At OKRs Library, check out our series of OKR articles, white papers, e-books and cases all built by highly experienced practitioners and with years of research in Strategy Planning & Implementation, OKRs, Agile Culture & Leadership.
Making The Case For OKRs
Want to evangelize OKRs within your organization? Here's how you create buy-in with your Key Stakeholders.
OKRs: Step-by-Step Implementation Guide
All you need to know before you start your OKR Implementation for the first time.
OKRs - The Common Pitfalls
It's more about what not to do than what to do, when it comes to getting OKRs running successfully.
OKR-BOK™
OKR International's highly researched OKR Body of Knowledge (OKR-BOK™).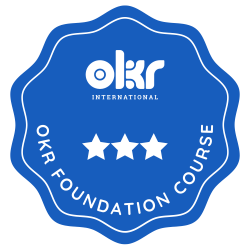 Already using OKRs or just new to it? Our world-class foundation course is a great way to learn the ABCs of OKRs. We offer the OKR Foundation Course in English, German, Spanish, Italian, Dutch, Thai, Malay & Hindi.
OKRs vs. Balanced Scorecard
When does one use the Balanced Scorecard? Do OKRs work well with the BSC? All this and more...
OKRs vs. KPIs
One of the key differences between OKRs and KPIs is the intention. Check out the key differences between them.
OKRs vs. Agile
Many companies struggle to make OKRs and Agile work together, although both seem to share the same philosophy.
OKRs, SCRUM & EBM
Combining SCRUM and Evidence Based Management (EBM) with OKRs is getting the forest and the trees.
OKRs Examples
The largest collection of OKR examples across various functions and teams types.
Key Results Compendium
A collection of commonly used Key Results spread across various industries.
5 Cultural Norms That Catalyze OKRs
OKRs are a simple framework, but they don't run by themselves. Find out how leadership and culture catalyze OKRs.
OKRs Glossary
OKRs Glossary is a comprehensive dictionary of OKR terms or nomenclatures that help you understand the OKR world.
Cracking the Code of Purpose Strategy: The Role of Tactical Operational Models & OKRs
Unleash Success with Tactical Operational Models & OKRs!
Have more questions on OKRs?
Visit our page on OKR FAQs
We are a phone call away
Interested in OKR International's services? Just pick up the phone to chat with us.
Write to us if you have a question
Sometimes you need a little help from your friends. Or an OKR International support member. Don't worry… we're here for you.
Learn more from our latest Blogs