One Marketplace. Many Solutions.
OKR Software Marketplace
Plan, Align & Scale Your OKRs with our global OKR Software Marketplace.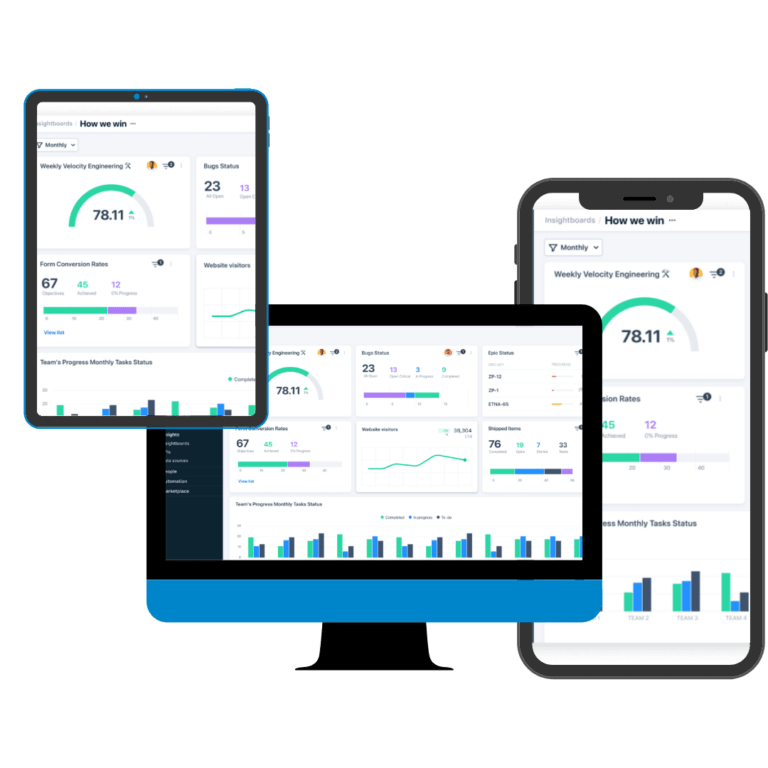 Benefits of using OKR Software
Visualise goals and how they align with each other
Transparency & Accessibility for Everyone
Increased Employee Accountability & Discipline
Visible Real-time Nudges & Updates
Accessibility via Multiple Devices
Historical Records - All in one place
Customized Reporting and Insights
Integration with 100+ Applications
FREQUENTLY ASKED QUESTIONS
OKRs Software FAQs
When most companies start using OKRs, they tend to use Excel, Google Sheets, PowerPoint and other similar tools to track OKRs. Scaling, driving adoption and engagement, providing real time updates and most of of customised reporting are some of the reasons an OKR Software starts making sense.
How can I use an OKR software to track goals?
OKRs should be top of mind as its those high priority goals need focus. Whilst implementing OKRs, a software allows you to enter and track all your goals in one central location. A good software will also integrate your internal systems with the OKR software.
Why OKRs on spreadsheet just don't work?
Using spreadsheets when you pilot OKRs for a quick quarter is just fine. But the moment you starting using them across the board, it leads to adhoc follow-up, and lack of follow-through on progress. OKRs become an add-on to complex workflows rather than becoming the foundation of strategic focus and direction. Don't forget the time loss due to lack of automation.
How does an OKR software promote collaboration & teamwork?
An OKR Software encourages transparency and therefore teams can view their goals and progress in real time. This allows the employees to gain an understanding of what their team mates and other functions are working on and how they can contribute to accomplishing company goals as a team. 
How do I choose the right software?
Your choice of an OKR Software is based on several questions.
Are you buying OKR software first before fully understanding OKRs? 
Its best to implement OKRs for a month for a section of your business. Learn about what works, what doesn't and what kind of data is important for your organization, and you can do that all by using basic tools such as Notion, Google sheets or good old Excel. Once you realise that you have to scale the users to more than twenty users, then it's time to pick a software.
Most OKR software companies have in-house OKR experts. Do ensure that you enlist them to help you succeed with OKRs and not just with the software. Succeeding with the OKR software, does not mean succeeding with OKRs. This requires you to do more than just launch a software.
Are you looking to link OKRs with performance management?
If Yes: Pick that OKR software from our OKR Software Marketplace that was built from or with Performance Management Modules. There are many of them. Unfortunately, some performance management systems masquerade as OKR software, which becomes very confusing to use.
If No: Don't purchase a PMS+OKR software. Since it will send mixed signals to your employees. Look for true-blue OKR software that advocate not-linking OKRs. There are a few good ones (and they are impressive)
Do you have an existing task management system like Asana or Jira?
You can either use the OKR plug-ins that Asana and Jira have, or you can purchase an OKR software with the help of our OKR Software Marketplace that integrates them both. Do note that these plug-ins limit the total OKR experience.
Remember non-tech teams and organizations won't be well versed with these tools. This is where you are better off with a pure OKR software.
Are you looking at linking OKRs with one another?
Not all OKR software have good visualizations or OKR goal Trees. Find one that does, and not only to top down and bottom up but also promote cross functional collaboration. Check if these links can be seen with help of a table view, grid view or a tree view.
Some OKR software only allow linking lower-level Objectives to higher-level Objectives. Its better to find a software that doesn't limit that. So much so that you can link KRs to Objectives and also link KRs cross functionally as well.
How do I connect them to my tech stack?
Good OKR software have all integrations. You can Check-in your OKRs via Google Sheets, Gmail, Outlook, PowerPoint, Slack, and many other modes. These are highly convenient features. Many OKR software don't have good mobile Apps. Certainly, take a separate demo for just the mobile app and compare it to the Desktop version. Ensure that there is not much of a difference.
What should the user effort be? 
Count the number of clicks and time it takes to:
Write an OKR and publish it
Update an Objective and its KR
Link and OKR with another
Ease in seeing other's OKRs
How easy it is to collaborate
A place where you can store learnings and updates from cadence reviews and retrospectives
How much of AI and ML tech is used?
Being able to update OKRs on the go (via mobile app or via integrations)
The user should be able to create OKRs for Teams, Departments, Cross Functional Teams and hence be able to create OKR sets as they wish them to be.
There should be a quick access BOT that helps them connect with a stakeholder or to an OKR coach.
The tool should calculate the Customer Effort Score and see if it improves over time.
Are you looking to improve alignment and collaboration?
There are OKR tools that have Whiteboarding features, crazy integrations and amazing UI/UX that helps connect with people across the organization. They have powerful notification and broadcasting features as well.
Pick a tool that increases stickiness and 7-day active usage. There are tools that have built in nudges that create that.
If there is a change in an OKR, then all relevant stakeholders should get a push notification.
There should be a newsfeed that has all the latest updates.
There should also be an in-built organization directory to help connect people with each other.
What should we pay?
The lowest we have seen an OKR software charge is $0.5 per user per month.
We have also seen OKRs software been given for free as well. But with trimmed down features or for limited users. That's just as good as a google sheet. There are a few OKR software that charge an annual enterprise fee which is not dependent on number of users. This allows for a lot of flexibility.
We have seen them sold at $17 per user per month as well. Based on the customization and inbuilt features. They could also charge you separately for OKR services, which include helping you start with OKRs, training Super Users and ongoing maintenance, technical and customer support.
Do you need good data visualization?
A few of these OKR software in our OKR Software Marketplace have powerful customization visual dashboards. And Leaders across the organization can create their own custom dashboard to keep track of what they want to see.
Do you need other stuff in addition to OKRs?
Check if the OKR software from the OKR Software Marketplace has any additional value adding features such as:
AL/ML bots
Pulse checks
Initiatives/Task management module
Engagement Surveys
Calendar and Scheduling modules
OKR Wiki
Collaboration modules
360 reviews
CFR modules
Whiteboarding tools for setting OKRs
Meeting management tools
Integrations
Powerful Data and Information Security
Learning Videos on OKRs.
Ready to USE OKRs (makes you lazy)
Performance Management module (read point two above)
Will we need Internal software administrators?
Yes, you will need a couple of Super Users. These administrators will manage the database, set the Cadence, send updates and nudges, and keep a track on the usage.
What else should I consider?
We would encourage you to take a look at the funding the SaaS has received and its backers. It will give you an idea of the company's stability. Do ask for its product Roadmap as well, especially their mobile development, integrations, and data security levels. Check on the Turnaround time for their support especially during the first few months. Get at least a couple of demos and have different teams from your company attend the demos
Does OKR International charge for introducing a software partner?
No. we do not take commissions or charge you for choosing a software partner from our portal. You will be dealing with the software partner directly without our involvement. The choice of an OKR software will be entirely yours.
Have more questions on OKRs?
Visit our page on OKR FAQs
Learn more from our latest Blogs