The existence of several management mantras and the emergence of strategic management consulting firms
intrigues one to think of the best possible way in which an organization can achieve its goals. Despite the existence of OKRs, KPIs and MBOs, and more, every organization has their own understanding of which system works best for them. In this article, we elaborate on why OKRs is the best framework to follow and why it is a management mantra that changes with the changing times.
The reason OKRs is considered to be the best framework is because it propels your team to achieve seemingly impossible goals whilst continuously learning. Organizations today find it increasingly challenging to keep up with the changing times when change itself has become exponential. Leaders, too, find it challenging to keep their teams aligned to their ever-changing goal posts. Under such circumstances, one can leverage OKRs and enable successful OKR implementation to create Alignment, Prioritization, Accountability, Transparency and Empowerment in order to be truly agile.
The origin of OKRs goes way back to 1954 when Peter Drucker introduced MBO or Management by Objectives. In the year 1968, Andrew Grove co-founded Intel , where he adapted the MBO to create the OKR framework as it is known today. In 1974, John Doerr joined Intel and he learned OKR during his time there. When John Doerr became one of the first major investors and advisors in Google he suggested the use of OKRs to Larry Page and Sergey Brin. They then implemented OKRs at Google. To this day, Google uses OKRs. Since the conception of OKRs, several companies globally have been using OKRs as their goal setting and execution framework. This includes big names like Amazon, Netflix, Microsoft, Spotify, Atlassian, Facebook, Colgate, SWIFT, etc.
OKRs ensure that the whole organization is focused on achieving the same goals. Being an open-source framework, no two organizations tend to implement OKRs the same way. There are no rules but guidelines when working with OKRs. One must avoid being dogmatic about it. Due to its flexible nature, OKRs can be used in more than one way. At OKR International, we have seen some companies first-hand set OKRs once a quarter, while others have chosen shorter frequencies. In some cases, companies have altered the way their successful OKR implementation takes place. And yet, some other companies have used some leeway in the way they are reviewed. Nevertheless, such that the integrity of the OKR framework is maintained, there are some essentials that must not be compromised.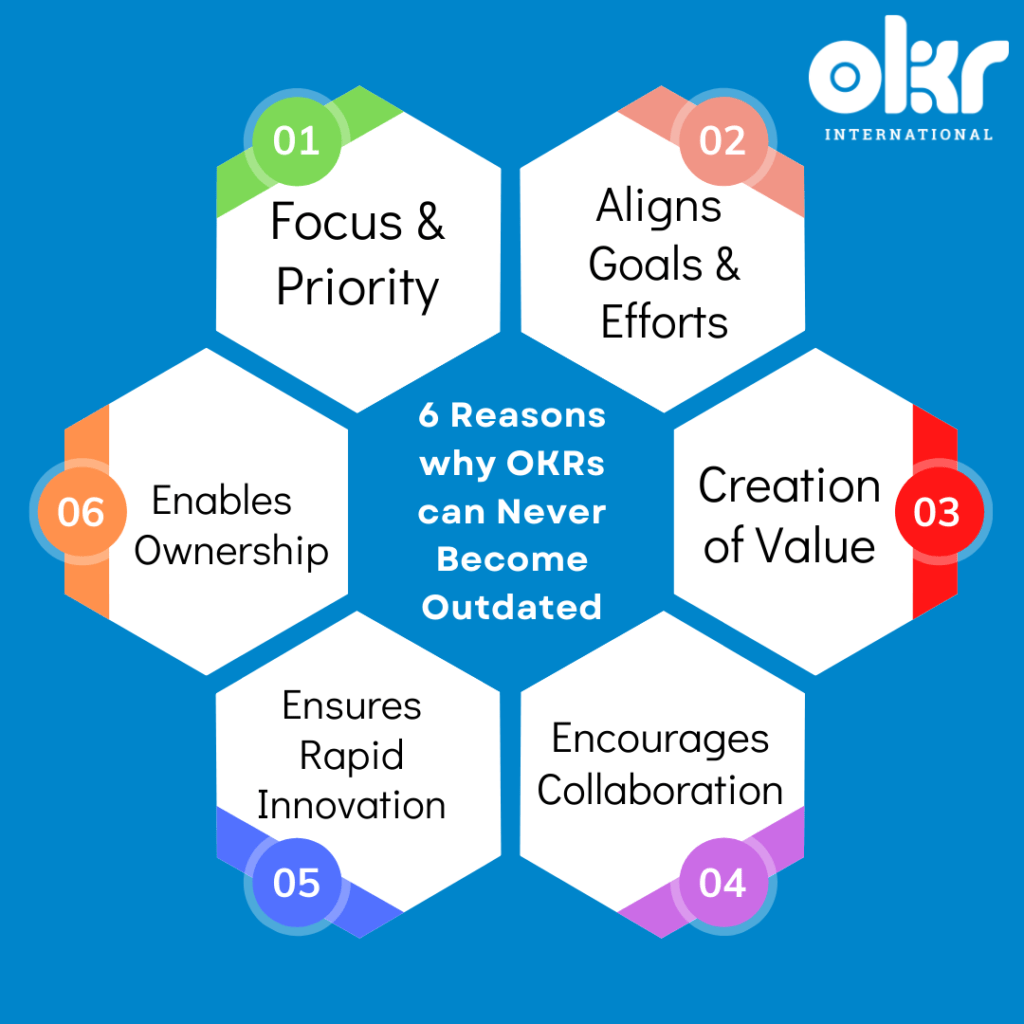 ---
Following are some of the reasons why OKR as a management mantra is not outdated:
1. OKRs provide focus with priority by defining what matters the most. Doing so helps organizations to execute said priorities practically with agility. Other important factors such as leadership readiness and buy-in further help reach success. The ultimate goal of OKRs is to help companies and/or teams prioritize goals and make decisions on how to use various organizational resources – especially their people, time, and money – towards achieving those common goals.
2. OKRs align Goals and Efforts by enhancing systemic thinking, encouraging leaders to convert their strategy into annual goals and then further breaking those goals into quarterly ones. This enables teams and sub-teams to align themselves to the overall organizational goals as well as purpose. This also brings out true alignment caused by a healthy amalgamation of top-down, bottom-up and cross alignment between teams or members. When every function works towards the same goals, it results in a well-oiled engine generating great value for the organization.
3. OKRs create value. OKRs, but specifically Key Results, get defined in ways that ensure more autonomy and empowerment is created. When Key Results are crafted well, they become outcome (value) based and not effort (activity) based. The correct kind of Key Results (outcome based) are bound to support the achievement of an Objective, which thus empowers employees and teams to decide how they can best achieve their Objectives.
4. OKRs encourage Interdependencies / Collaboration. OKRs require top-down, bottom-up and cross team alignment before they can be successfully implemented. This is immensely helpful since it provides ground for everyone in the system to gather in their resources toward those common BHAG- big hairy audacious goals. The transparency that OKRs very rightly display make it important for all members to see real time changes in one place. There is also an emphasis on how they affect other teams, which then allows everyone to constantly align and re-align regularly.
5. OKRs ensure rapid innovation. This makes it the 'go-to' framework that ignites a truly agile system while also acting as the conduit for cultural transformation within any team. Initiatives undergo rapidly experimentation, along with initiatives. A 'fail-fast' mindset, psychological safety to take calculated risks, collaboration, learning and continual sprints in the product, services and operational segments all of these are an integral part of OKRs and they all contribute in creating an environment where innovation thrives through successful okr implementation.
6. Lastly, OKRs enable Accountability & Ownership. Inherently, OKRs are meant to create a culture of top-down and bottom-up communication. The top-down design enables the strategic intent while the bottom-up approach brings grounded experience, executional intelligence, and clear contribution from people within teams. When there is transparent alignment and involvement of employees across the board, it brings in increased levels of engagement and ownership.
OKR International is part of Seven People Systems Pvt. Ltd., a leading consulting & research company specializing in Strategy Planning, OKRs, Culture Transformation and Agile Leadership Development. Our purpose is to help transform organisations by making them more agile, more collaborative and more successful. We have a global footprint in 15+ countries with a repertoire across 23+ industries.
Helping organisations globally to differentiate their only competitive advantage (People) has been our raison d'être since the time of our inception. Our services are aimed at creating practical, workable solutions that are based on cross Industry Experience & Global Practices. We are global leaders in OKR Implementation, Training & Coaching.
OKR International is one of the leading strategic management consulting firms that provides services in successful OKR implementation in more than a dozen locationsglobally. OKR International is a strategic consulting company and OKR consulting firm that offers services in OKR Accreditation, OKR Consulting & Advisory Services and OKR Coaching services to companies across the globe.